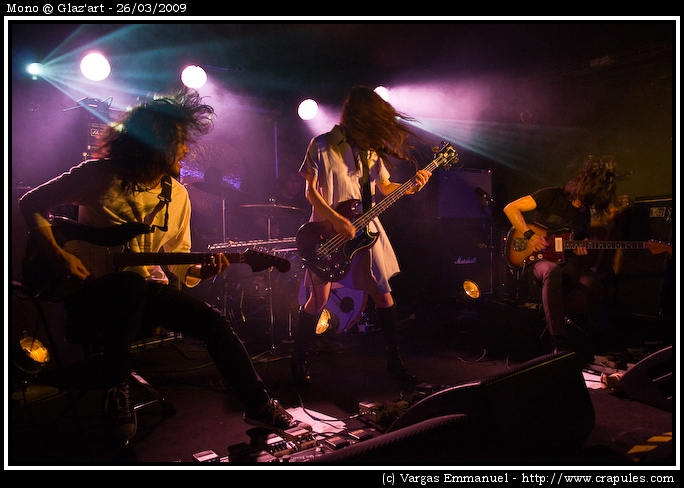 Mono @ Glaz'art Photo 4 - Mono Live in Paris @ Glaz'art for the "hymn to the immortal wind" tour. 2009-03-26.

Mono were founded in January 2000 by guitarist Takaakira Goto. The first member to join was fellow guitarist and long time friend Yoda. Soon afterwards the two guitarists linked up with bassist Tamaki and drummer Yasunori Takada.

All of Mono's songs are entirely instrumental, and Strings and pianos are also prominently featured in several songs.

In 2002, Mono finished their second album, One Step More and You Die. Many critics considered this as having a more distinctive sound than the preceding album.
Soon afterward, Mono moved on to a new project in direct response to the aftermath of September 11th. This album was titled New York Soundtracks and was recorded in collaboration with several important members of the New York experimental scene, such as DJ Olive, Jackie-O Motherfucker, and Loren Connors. New York Soundtracks consists of remixes of all of One Step More and You Die's tracks.

Following Soundtracks, Mono embarked on the production of their next album, Walking Cloud and Deep Red Sky, Flag Fluttered and the Sun Shined which was released on October 5, 2004. Following the release of this album, Mono began a lengthy world tour.

On June 24, 2006, Mono released their next album, You Are There. You Are There met similar success to Palmless Prayer / Mass Murder Refrain and was accompanied by worldwide tours throughout 2006 and 2007.

Mono, like most bands associated with the underground music scene, tries to maintain a strong relationship with their fans. Goto, in a recent interview with Semtex Magazine, pointed out that for Mono, promotion is not a priority, they tour "to meet the crowd".
Created on

Posted on

Keywords

Visits

2453